Magic.TXD
Jump to navigation
Jump to search
Magic.TXD
Current version:
1.1
Developed by:
Martin Turski (The_GTA), Dmitry K (DK22Pac)
Supported games:
GTA III, GTA VC, GTA SA, Manhunt, Sonic Heroes, Persona 3/4, The Godfather
Type:
Texture Dictionary editor
Magic.TXD is an open-source RenderWare Texture Dictionary (TXD) editor written by DK22Pac and The_GTA for Microsoft Windows. It aims to support every RW TXD format and comes with many unprecedented features to make TXD editing simple.
Features
PC, PS2, XBOX, Gamecube, Android, iOS TXD support
supports all RenderWare GTA titles as well as most if not all RenderWare 3.x games
live preview of TXD contents
Windows shell extension for thumbnails and context menu
importing, exporting, resizing, encoding and decoding
uses Qt framework for modern GUI
TXD builder, converter and exporter
Image formats: PNG, BMP, DDS, PVR, JPEG, TIFF, TGA
mipmap generation (+ black roads fix)
translated into many languages
Screenshots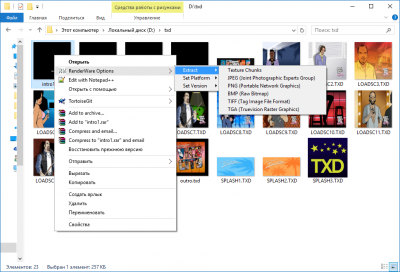 Videos
Plugin Support
There is support for Direct3D 9 color storage format extensions. Dynamic link libraries are loaded which define how Magic.TXD should treat D3DFORMAT types that it has no native support for. By default, Magic.TXD ships with D3DFMT_V8U8 and D3DFMT_A8 plugins.
References
Tutorials