Design Your Own Mission
Jump to navigation
Jump to search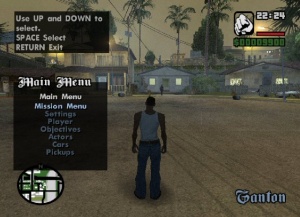 Design Your Own Mission (DYOM) is a multi-award-winning mission mod for GTA San Andreas made by Dutchy3010 and PatrickW. It allows to create a new mission ingame, without writing a single line of SCM script. The mod works as a mission pack. The latest version is 8.1, released on 22 January, 2014.
Installation
Installation is very simple. Just copy the MPACK folder from the archive to your "San Andreas User Files" (in My Documents). To add downloaded missions, just copy the DYOMx.dat files into "San Andreas User Files". CLEO 4 is needed for this modification to work correctly.
Features
Create your own missions without writing a single line of code!
Create objectives, pickups, cars, text and more for your missions with the use of a simple menu.
Connect missions into a storyline with a common plot.
Share your missions on DYOM site, and allow other to play your missions, or try the missions made by others.
Mod Popularity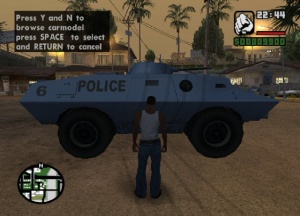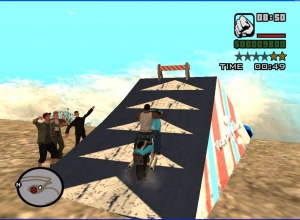 The mod is considered to be very popular among modders. As of August, 2017 the DYOM Missions Archive contains more than 46,000 user-made missions and more than 1,600 storylines.
The mod popularity had given its authors the idea of making a contest the goal of which is to create the best mission using Design Your Own Mission mod. Each contest lasts for a certain period of time, then the jury consisting of the mod authors and the winner of the previous contest choose the best missions from the ones that were submitted. After that the members of GTAForums.com and GTAForum.nl vote for the winner.
Since the second the contests have a specific theme the missions should be made on.
Awards
External links